Glacier Trips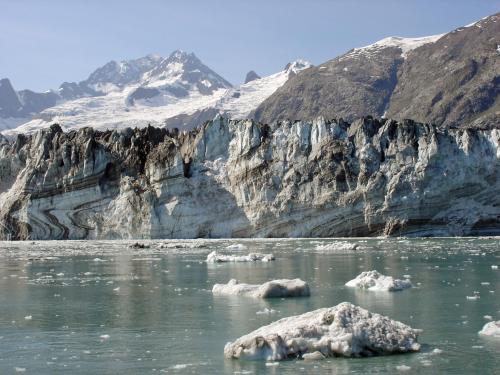 To experience the grandeur and beauty of Glacier Bay, you must experience it aboard the high-speed day cruise vessel. This vessel shows you the best of what Glacier Bay has to offer. You will cruise up bays where you can see massive glaciers close up and where abundant wildlife may be observed. This is an all day cruise. Price is $250.00 per person.
Camper drop-offs in Glacier Bay National Park & Preserve are also available.
Enjoy a private Glacier Bay trip on a 28 ft. touring vessel. Make your own itinerary, plan your own trip, see what you want to see. Up to 6 people per boat. Call for prices and to see if a permit is available.
Whale Watching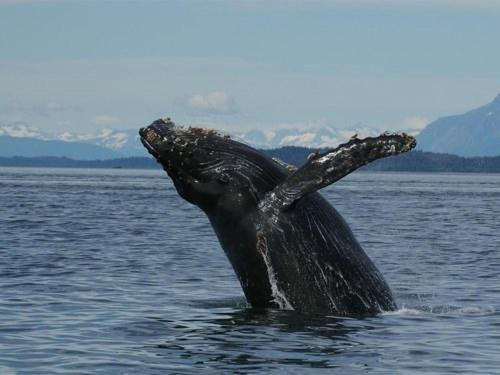 3-1/2 hour cruise on the m/v Taz to Point Adolphus where you will see a variety of wildlife and sealife. Whale sightings are guaranteed. Price $125 per person.
Custom whale watching tours aboard smaller more personal boats are available. Tours are from 4 to 8 hours. Up to 6 people. Please call for prices.
Salt Water Fishing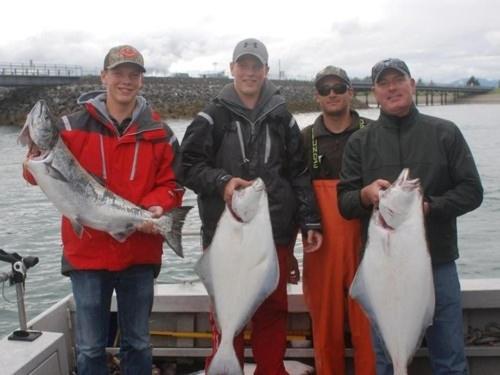 Includes guide and tackle. Alaska fishing licenses(required), custom fish smoking, processing, and gratuty are extra. Fish on local charter boat for hard-hitting salmon and barn door size halibut on a shared deluxe cabin cruiser with up to four people (boat features enclosed cabin and head). Price $450 per person.
Fresh Water Fishing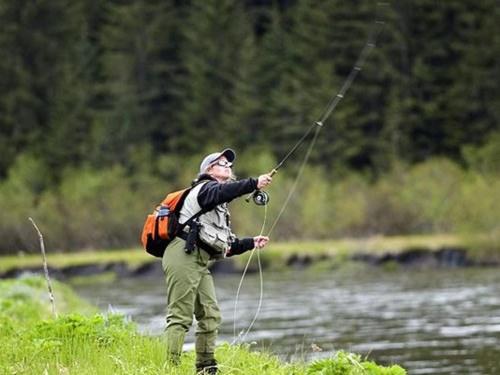 Includes a boat to a secluded stream, and guide. Alaska fishing license(required) and gratuty are extra. Spend the day fishing secluded streams for hard-hitting Silver, Sockeye, Pink, or Chum Salmon, along with Dolly Varden, Cutthroat, and Rainbow Trout. All guided fresh water trips are catch and release only. Prices starting at $450.00 per person.
Unguided walk in trips are also available.
Kayaking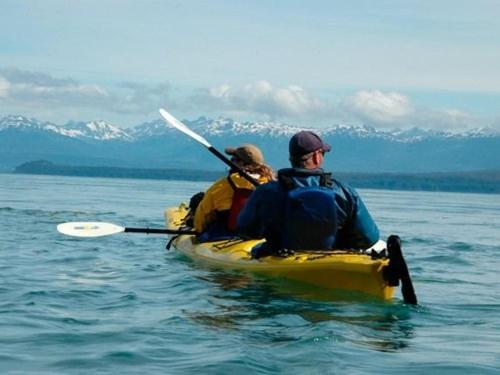 Guided and unguided sea kayaking -- paddle and see wildlife in Bartlett Cove! Perfectly suited for beginners and families. Half day to multi day trips available. Both single and double kayaks offered. Full day guided trips are $175.00 per person, half day guided trips are $120.00 per person, $65.00 per person for full day unguided, and $50.00 per person for a half day unguided.
Kayak with the whales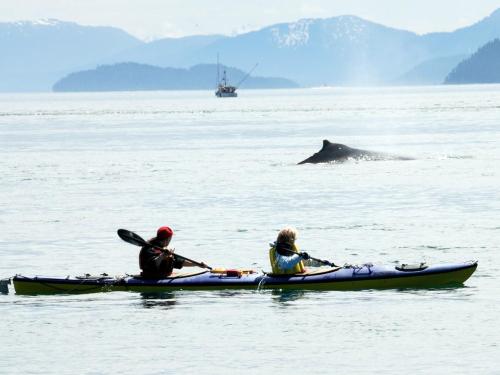 Kayak with otters, seals, porpoise, sea lions and whales. Learn to recognize them by their sounds, behavior, and appearance. The sea lions are playful and noisy, the seal timid, the whales graceful yet awe inspiring. Trips start with a short boat ride that drops you off at Point Aldophus with a guide. It can include tide pool explorations, a rain forest exploration and lunch. Call for prices.
The Historic White Pass & Yukon Route Railroad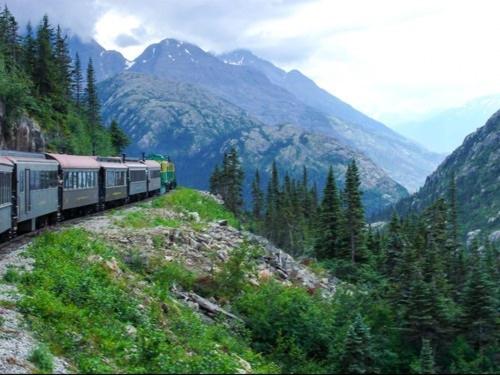 Plan a day in Skagway. Itineraries include a 3-hour train ride to the White Pass summit, flight seeing trip, shopping and exploring historic Skagway, and more! Please call for prices.
Flight Seeing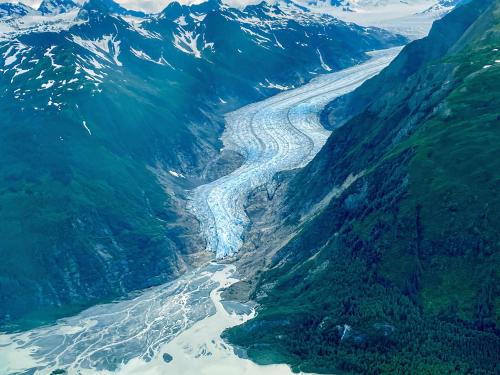 Imagine flying over the Brady Icefield, the Fairweather Range, watching abundant wildlife, and countless glaciers. Enjoy 60 minutes or longer of flight seeing of Glacier Bay, land in front of a glacier, or land on a beach and search for Japanese glass fishing floats, whalebones, or other long and forgotten artifacts. You set your own itinerary. Call for prices.
Visit the Bears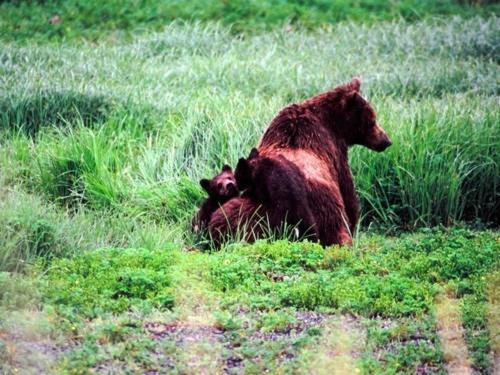 Choose from two different itineraries to visit Pack Creek, located on Admiralty Island. Flights leave from Juneau. A third itinerary includes a visit to the bears of Hoonah and riding the longest zip line in the world. Call for prices.
Private Day Boat Tours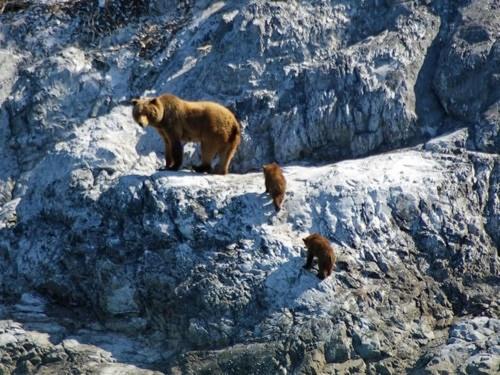 Have a medium sized group and want to do something different? Trips vary from private ferry service and whale watching, to tours to an outlying fishing village like Elfin Cove. Embark on a cruise to a small town, walk the boardwalk, enjoy lunch, and then return on a leisurely trip watching for whales, bears, eagles, and abundant sea life. Call for prices.
Outer Coast Adventure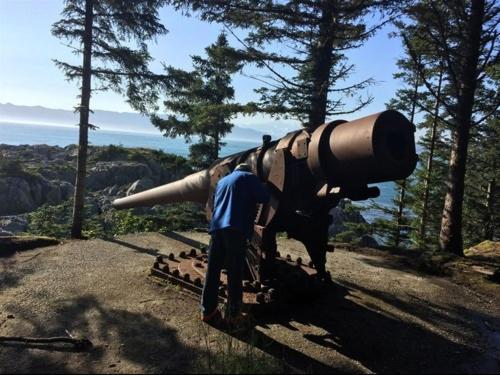 This one-of-a-kind adventure takes you on a stunning trip from Glacier Bay to Cross
Sound, including a stop in Elfin Cove on the Northern tip of Alaska's famous Inside Passage.
Along the way you have the opportunity to see a wide variety of sea and bird life. We will take a short hike on George Island to a World War II artillery site. The canon looks like it is still ready to protect the Inside Passage. A visit to Elfin Cove, a picturesque fishing community, is also included. Stroll along the boardwalk and see what kind of suprises you can find. Call for prices.
Hot Springs Adventure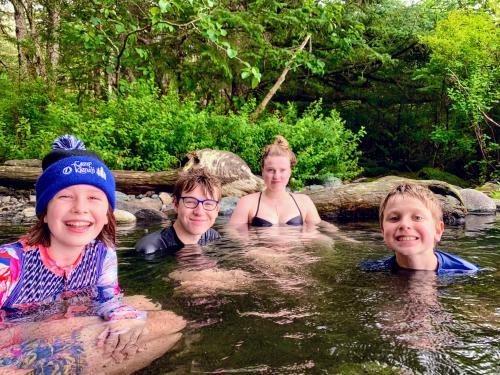 Experience one of the few all-natural hot springs in southeast Alaska…
We will travel along the Inside Passage with the opportunity to glimpse a verity of sea and bird life. Once on Chichagof Island, we will take a short overland trip to the Hot Springs, offering a unique view of Temperate Rain Forest and an opportunity to see Brown Bear. Once you change into your suit, relax and enjoy the beauty and solitude of Southeast Alaska as you soak in the soothing waters. During your time at the hot springs, we will enjoy lunch and take time out of our busy lives to slow down and let the worries melt away… Call for prices.
River Rafting and Wildlife Preserve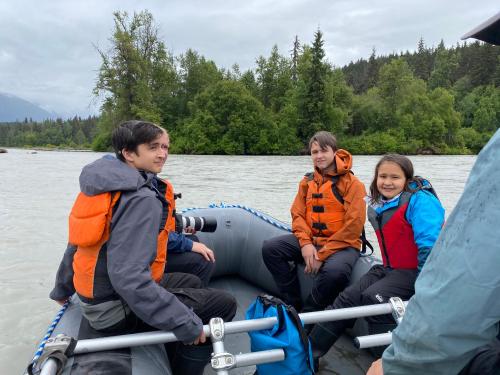 Think about flying up to Haines, Alaska to join a river rafting trip on the Chilkat River through the Bald Eagle Preserve. You will float past a Tlinget Village and travel on the river as they did. This is a great photo opportunity for bald eagles and other wildlife amidst the grandeur of glaciated snow-capped peaks.
Your day may continue with a visit to the Kroschel Wildlife Center for an up-close and personal experience with over 15 species of Alaskan wildlife. Call for prices.
Not Satisfied Yet? Custom tours including mini cruise ships and glacier trips into Tracy Arm are available and can be included in your itinerary. We also offer guided trips for bird watching and wildlife. Don't forget about our self-guided trips, such as hiking and fishing. Call for more information and prices.