Bear Track Inn Dining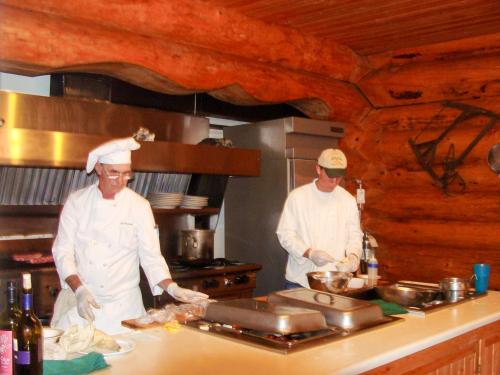 The Inn's dining room features a show kitchen with the chef preforming their magic. All meals are included in the rate. Breakfast and dinner are served in the dining room, with lunch provided on any of our excursions.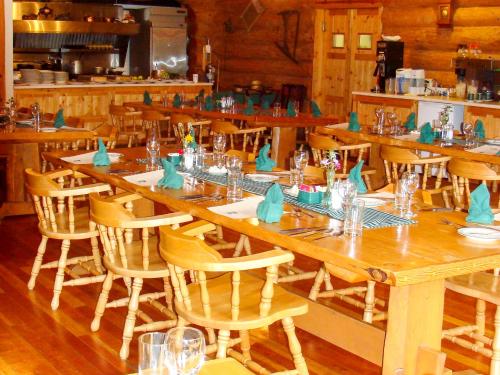 The dining room is my favorite place in the Bear Track Inn. Imagine walking into the dining room, being greeted by our hostess, and choosing between locally brewed beer or an extensive wine list to compliment the dinner menu.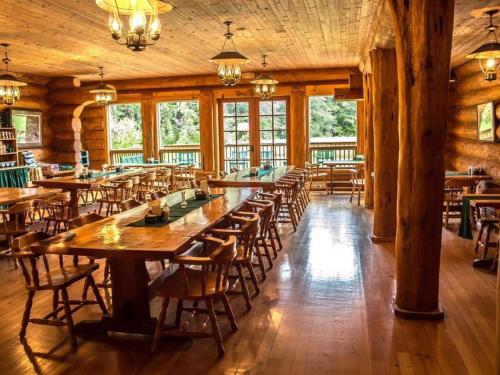 Choose between three to six entrees that could include steak, salmon, halibut, pork tenderloin, chicken, buffalo, caribou and vegetarian dishes. If this does not tempt your tastes buds, there will also be nightly specials, such as Halibut Parmesan, Excursion Halibut, Salmon in Parchment, or many other Inn specialties. Combine this with Alaskan favorites such as Dungeness Crab, Alaskan Spotted Prawns, seafood soups and salads, homemade breads, freshly made dressings, and finish with dazzling desserts. It's a dinner to remember.
Sample Menu
All entrees are served with delicious homemade bread, appetizer, beverage, and dessert.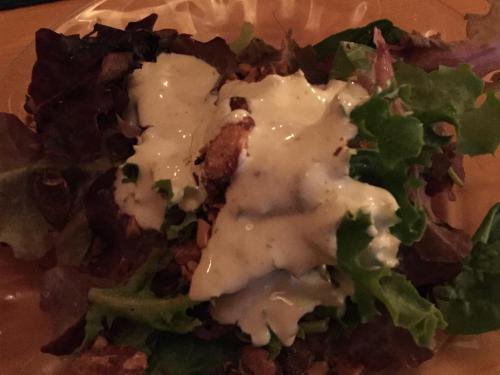 Appetizers
Mixed Greens - With seasonal vegtables and your choice of house made dressings: soy ginger vinaigrette or bleu cheese just to name a few.
Salmon Chowder - A hearty cream chowder with pieces of fresh caught king salmon, locally harvested Alaskan shrimp and vegtables.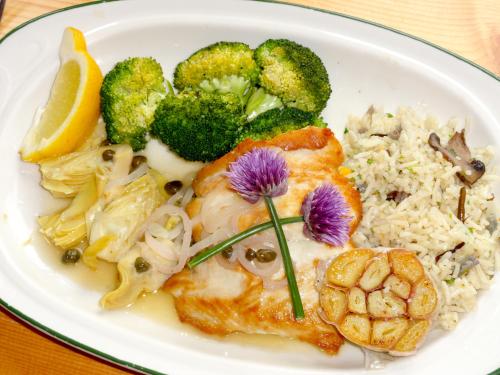 Entrees
AK surf-n-turf - A fresh dungeness crab half, served with drawn butter, accompanied by grilled Caribou medallion.
Salmon is King - Fresh ivory king salmon, accompanied by a sun-dried tomato pesto and baked to perfection.
Halibut Ritz - Fresh caught halibut rolled in a crunchy Ritz topping and baked, served with an orange beurre blanc.
Pork Loin - A 6 oz. portion of pork loin stuffed with bread crumbs, dried cranberries, chopped walnuts, mushrooms, garlic and fresh herbs, and baked.
Rib Eye - 10 oz. Rib Eye steak flame broiled with our special blend of herbs and seasonings.